Increase Muscle Endurance and Reduce Recovery Time In Our Group Fitness Classes
Just fill out the short form on your screen to learn more!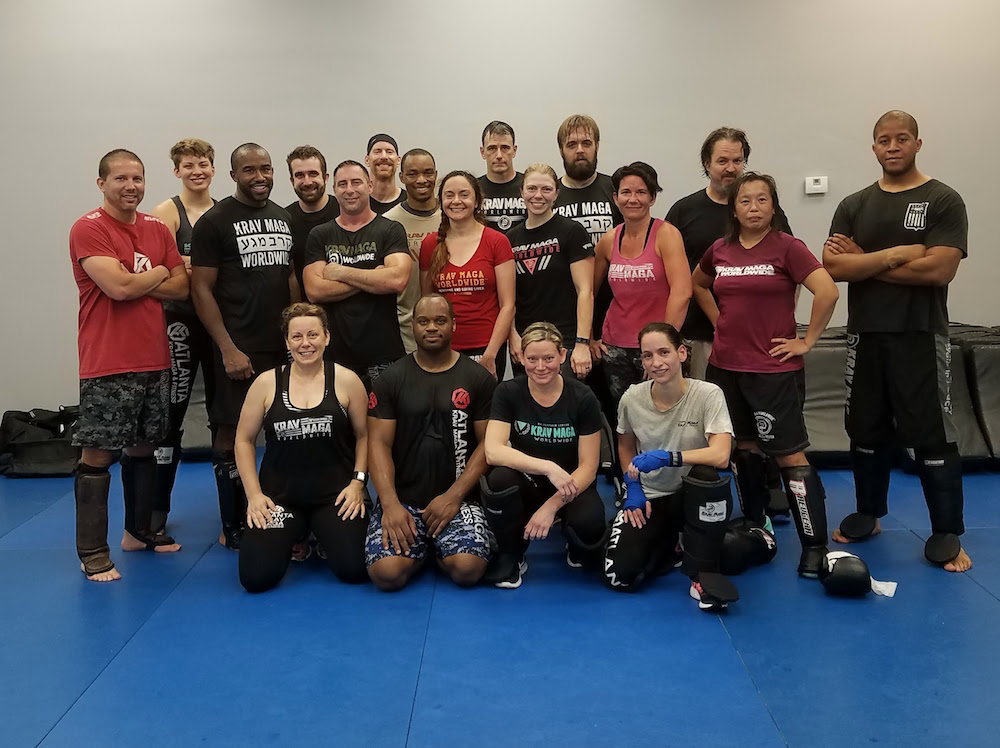 What to expect in Class?
At Atlanta Krav Maga & Fitness, we're committed to helping you get the most out of your fitness journey. That's why we rotate these dynamic Group Fitness classes each week and help you keep your body guessing and enjoy sustainable success.
Join us in Alpharetta today for:
Krav Maga: Our Classes are designed for the everyday person to jump in and start on any day with zero prior experience. Class starts with a brief warm up. Then we go into proper stance and punching technique. Followed by one or two additional strikes like elbows, groin kick, and others. Then we will go into one or two different defenses such as someone taking a haymaker swing at you, or putting you in a headlock, or being on top of you while you are on your back. While we carefully and safely instruct you on how to perform the technique, we will also do several drills throughout the class that will safely and realistically simulate the stress of combat so by the time the class ends, you will have done the techniques for "real". You will leave class drenched in sweat, with a sense of empowerment and achievement, and with a smile on your face EVERY time.
Combat Fitness: We're incorporating elements of martial arts training and ground-grappling into a dynamic total-body workout that can help you burn fat and build strength in just 60 minutes. This class relies heavily on partner drills. Quite possibly the best workout you have ever had. We don't focus on heavy, dangerous lifting but overall strength and health. The class includes martial arts movement drills, dumbbells, resistance bands, bodyweight exercises and tons more. The format of the workout is changed up each class. each class also includes striking combinations with focus mitts and a partner. Don't worry, no one is hitting anyone and we will pair you up with a partner on your first day. We will show you how to hold the focus mitts and how to strike. We promise you, you will not be lost. Hitting the focus mitts is a great way to keep the burn going, increase muscular endurance, shorten recovery time, and lower your resting heart rate.
Kettle Bell: You guessed it. This weekly program includes an hour-long class that relies solely on the Kettle Bell. You'll learn how to work every muscle in your body with targeted exercises that can help you see real results

What Makes Our Group Fitness Classes Different?
If you know much about traditional High Intensity Interval Training, you know that most classes push increased weight week after week after week.
That's not us.
Our Group Fitness classes are all about sustainability. We want you to challenge yourself and focus on the mechanics of every movement. As you improve, the priority will be on increasing your efficiency in every movement - not on how much weight you can lift and how fast you can lift it.
At Atlanta Krav Maga & Fitness, you can take on:
Professional coaching and support
Ongoing motivation and encouragement
Dynamic training strategies to help you continue moving forward
Improved self-confidence in all aspects of your life
Come See Us Today For The Best Group Fitness Classes In Alpharetta!
If you're ready to stop feeling frustrated and start seeing results, we have the answer for you here at Atlanta Krav Maga & Fitness. Our Group Fitness classes are designed to help everyone in Alpharetta find success.
Just fill out the short form on your screen to learn more!
Our class descriptions Classes Are Located In