Increase Muscle Endurance and Reduce Recovery Time In Our Group Fitness Classes
Are you ready to take on a proven path to improved strength and fitness? Then come see us today at Atlanta Krav Maga & Fitness. Our Fitness Kickboxing program includes THREE dynamic Group Fitness classes that can help you stay challenged and enjoy long-lasting results on top of mastering the skills of striking and self-defense.
We are proud to train men and women all across Roswell, Atlanta, and beyond. All experience levels are welcome.
Just fill out the short form on your screen to learn more!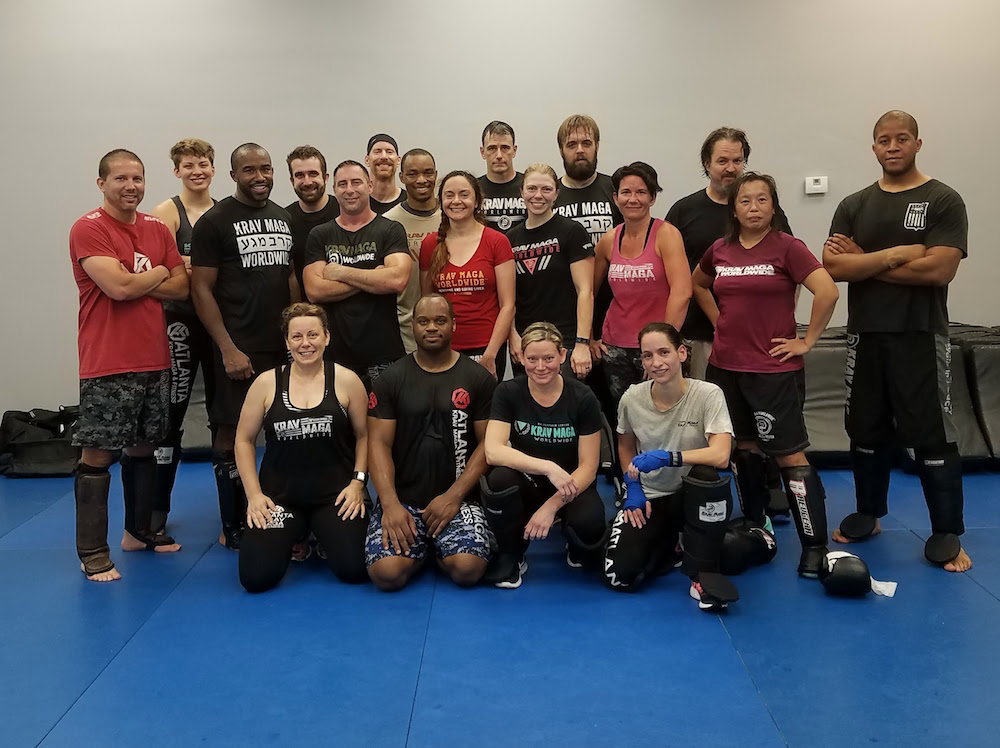 What Group Fitness Classes Are Included?
At Atlanta Krav Maga & Fitness, we're committed to helping you get the most out of your fitness journey. That's why we rotate these dynamic Group Fitness classes each week and help you keep your body guessing and enjoy sustainable success.
Join us in Roswell today for:
Combat Fitness: We're incorporating elements of martial arts training and ground-grappling into a dynamic total-body workout that can help you burn fat and build strength in just 60 minutes. This class relies heavily on partner drills.
Strength & Conditioning: These hour-long classes focus on body-weight exercises, dumbbell training, throwing dummies and more. This program offers people of all skill levels a chance to rely on high-intensity cardio training for improved muscle toning, weight loss, and more!
Kettle Bell: You guessed it. This weekly program includes an hour-long class that relies solely on the Kettle Bell. You'll learn how to work every muscle in your body with targeted exercises that can help you see real results.

What Makes Our Group Fitness Classes Different?
If you know much about traditional High Intensity Interval Training, you know that most classes push increased weight week after week after week.
That's not us.
Our Group Fitness classes are all about sustainability. We want you to challenge yourself and focus on the mechanics of every movement. As you improve, the priority will be on increasing your efficiency in every movement - not on how much weight you can lift and how fast you can lift it.
At Atlanta Krav Maga & Fitness, you can take on:
Professional coaching and support
Ongoing motivation and encouragement
Dynamic training strategies to help you continue moving forward
Improved self-confidence in all aspects of your life
Come See Us Today For The Best Group Fitness Classes In Roswell!
If you're ready to stop feeling frustrated and start seeing results, we have the answer for you here at Atlanta Krav Maga & Fitness. Our Group Fitness classes are designed to help everyone in Roswell find success.
Just fill out the short form on your screen to learn more!
Our group fitness Classes Are Located In
New Roswell Location Coming Soon